Description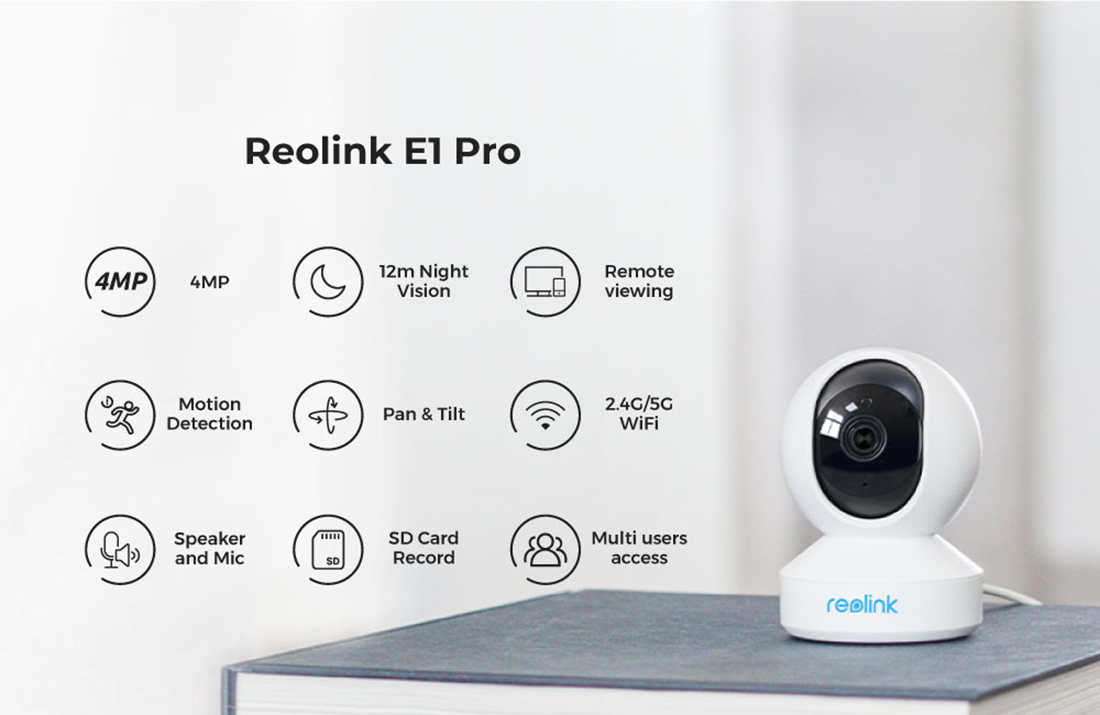 Indoor Security Camera, Reolink E1 Pro 4MP HD Plug-in WiFi Camera for Home Security, Dual-Band WiFi, Multiple Storage Options, Motion Alters, Night Vision, Ideal for Baby Monitor/Pet Camera
Videos Now Clearer, in True 1440p Super HD
Reolink E1 Pro 4MP security wifi camera captures much sharper and clearer videos than 720p and 1080p surveillance cameras.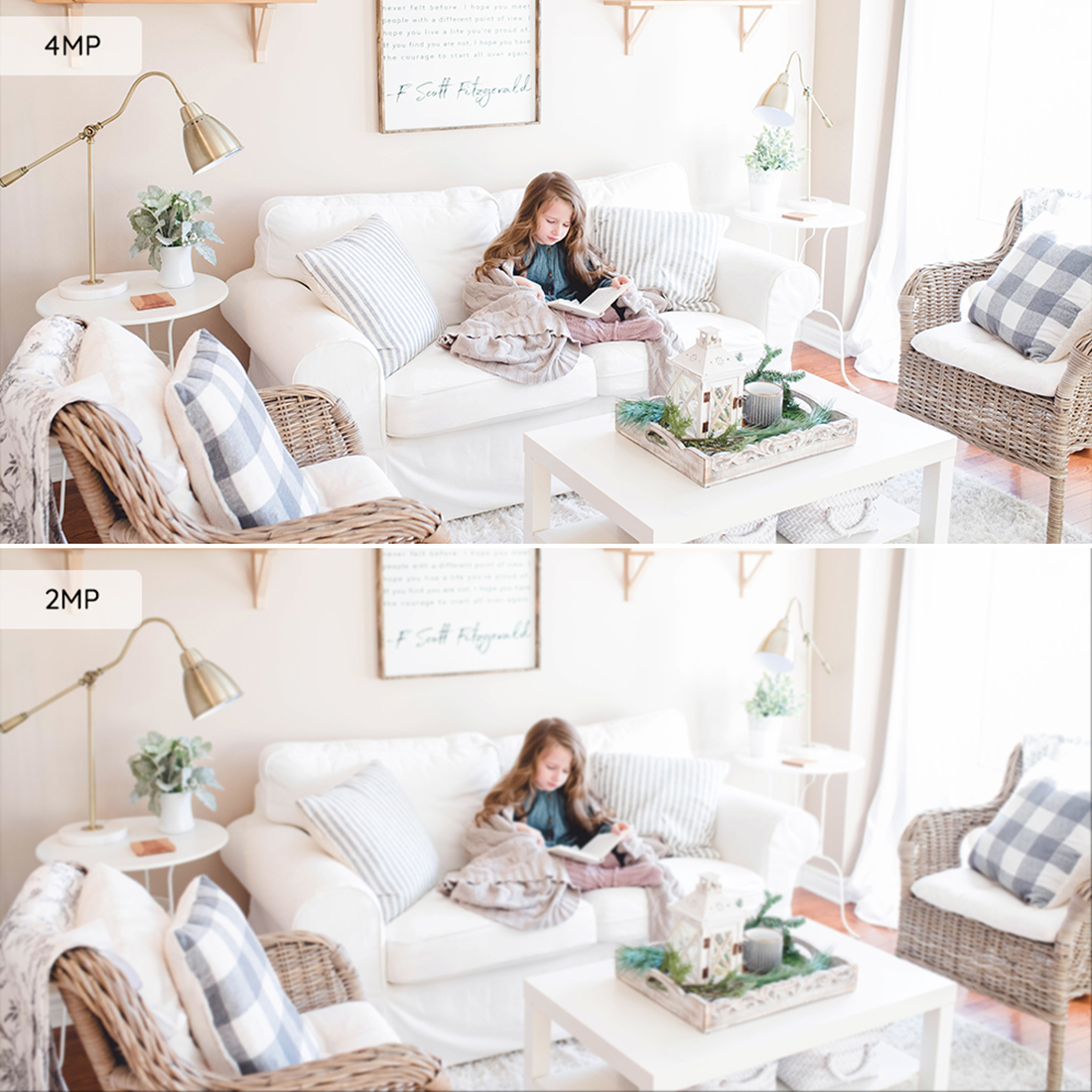 Up to 12m night vision
Thanks to 8pcs powerful infrared LEDs and enhanced 3D-DNR technology, E1 Pro ip camera can capture every move of would-be burglars at night with vivid and noise-free details.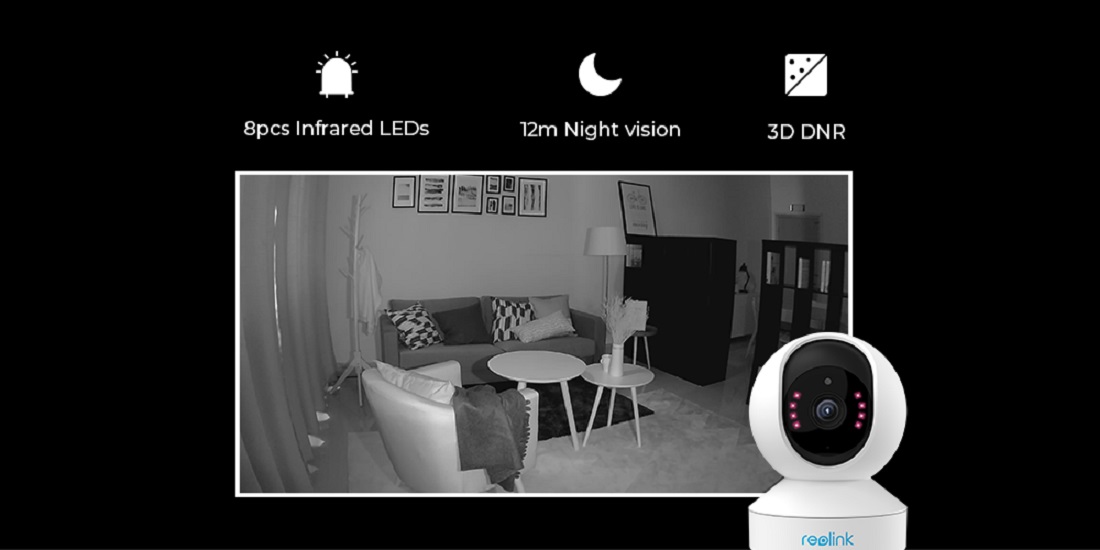 Whole Room Coverage in Super HD
Watching over a large area is now becoming easier. Boasting 355° pan & 50° tilt and 4MP Super HD, E1 Pro can deliver the whole picture of your home, even better, in stunning clarity and vividness.

Simple and Reliable Dual-Band WiFi
E1 Pro supports both 2.4 GHz and 5 GHz WiFi, offering more options of wireless connection. Dual-band WiFi technology and 2T2R MIMO antennas ensure a robust signal for reliable network performance.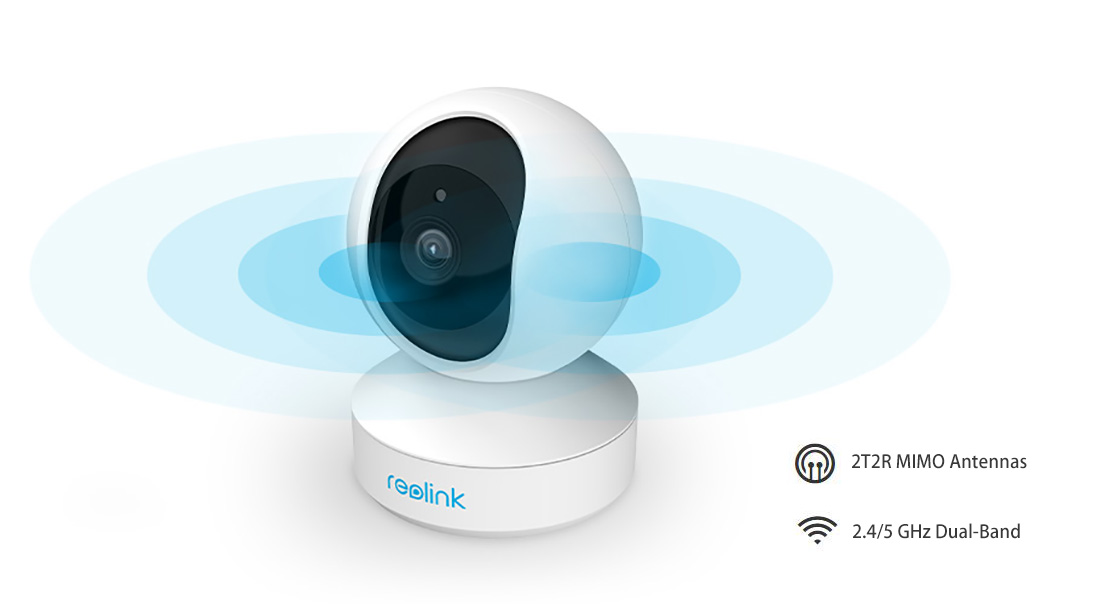 Live Feed and Two Way Audio
Hear what's going on inside and outside your home and talk back just with a touch. With built-in mic and speaker, you can talk with your kids, have fun with pets or ward off would-be burglars.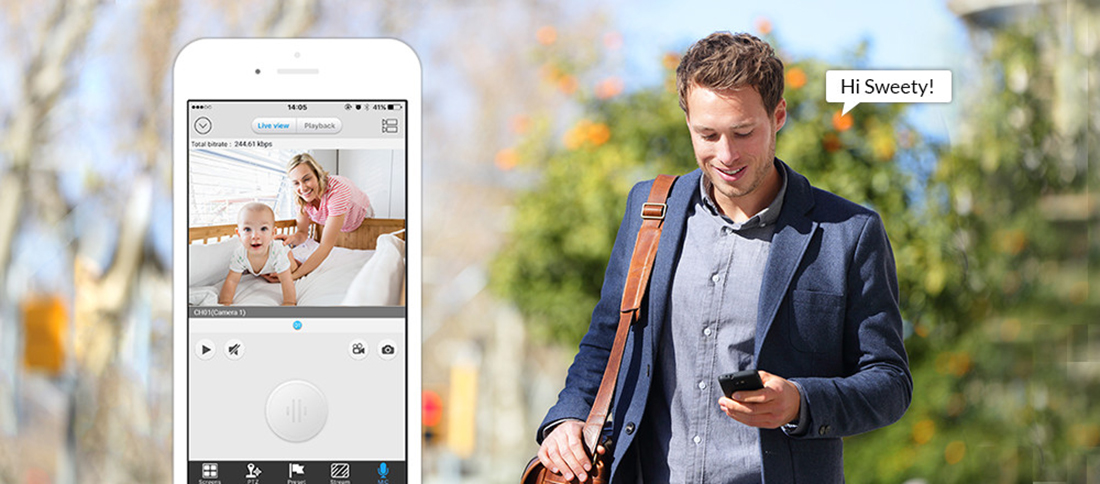 Quick Remote Access and Monitoring
Wherever you are, you can remotely access Reolink E1 Pro PT baby monitor pet camera to get live streaming, and stay aware of your home and business via free Reolink software.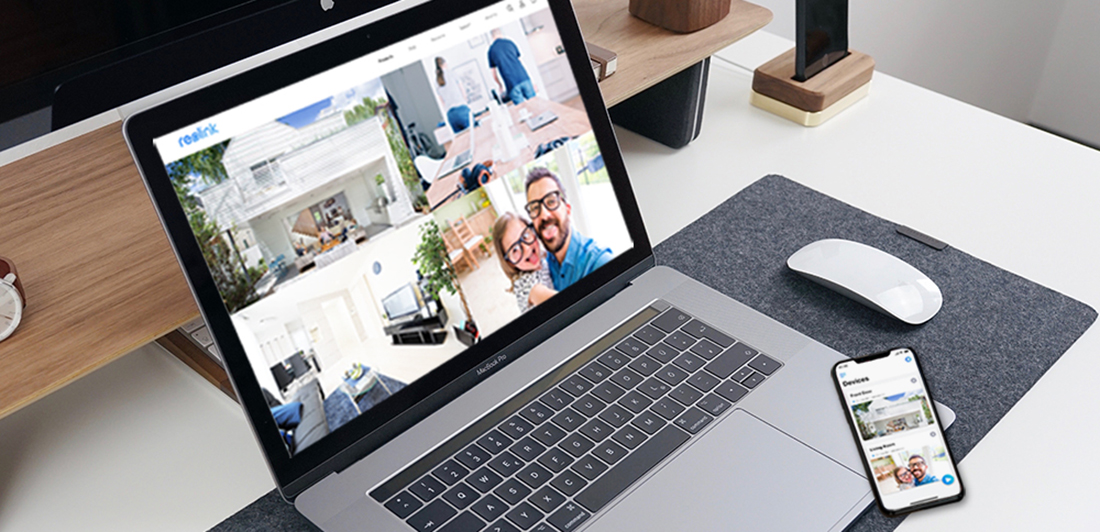 Control Your Cameras and Hands-Free
With smart home automation, your house is at your command.
It can't be easier to control a security camera that works with Google Assistant.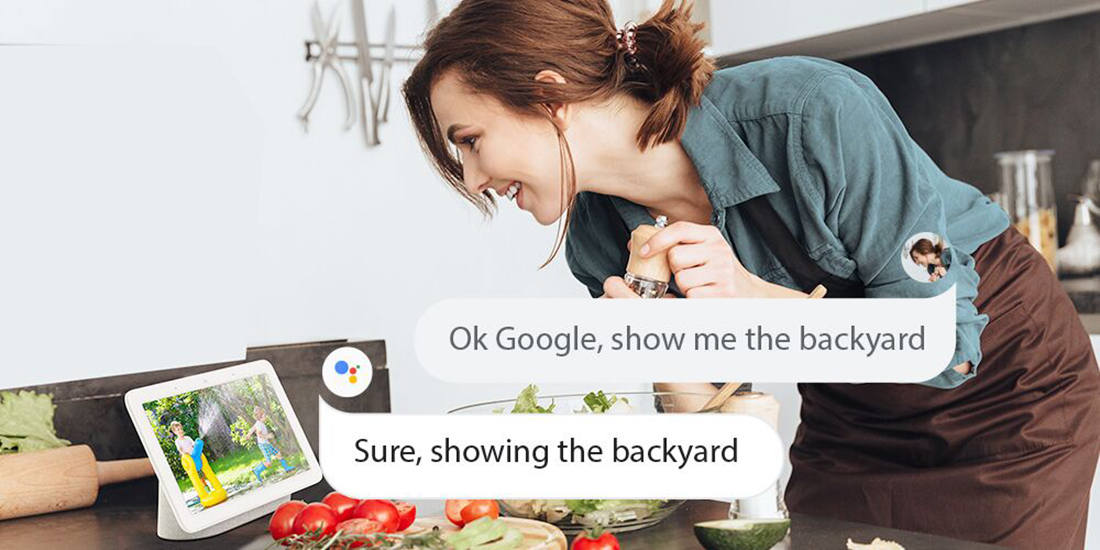 Smart Motion Detection for Alerts
E1 Pro is not only your home protector, but a powerful helper. It send push notifications or email alerts with motion photos or clips when motion detection is activated. You can monitor your house when you're away, check on whether kids get home from school or know when the dog walker arrives.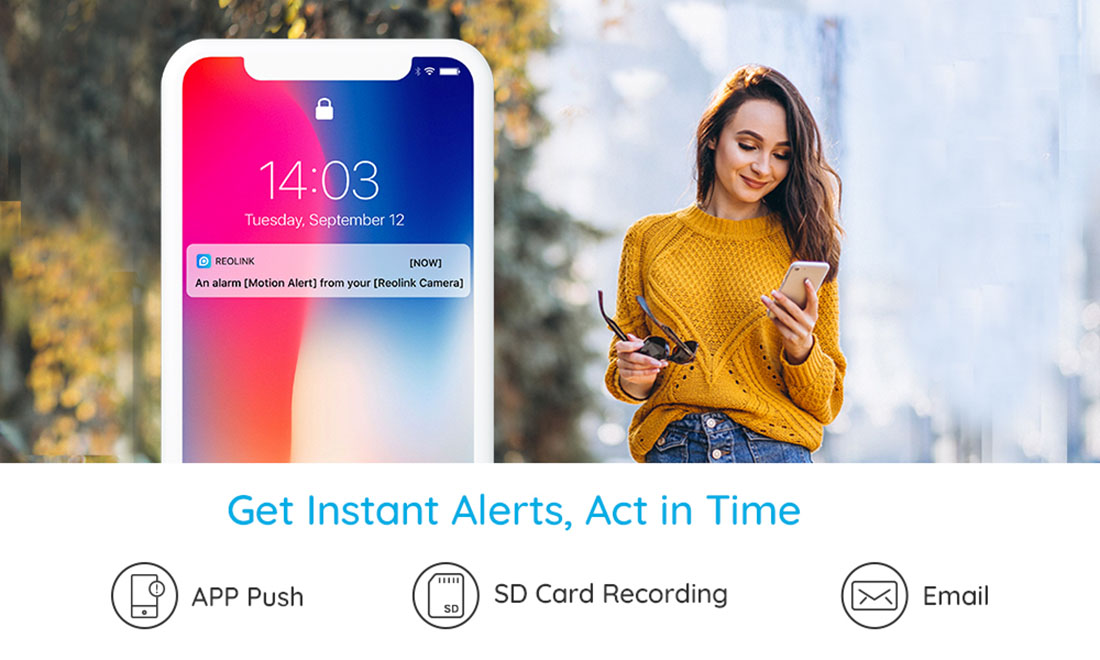 Save all motions in SD card
The SD card will record when motion detection is triggered. The camera supports pre-record(3s-6s) and post-record. When the SD card is full, it will automatically cover the old video.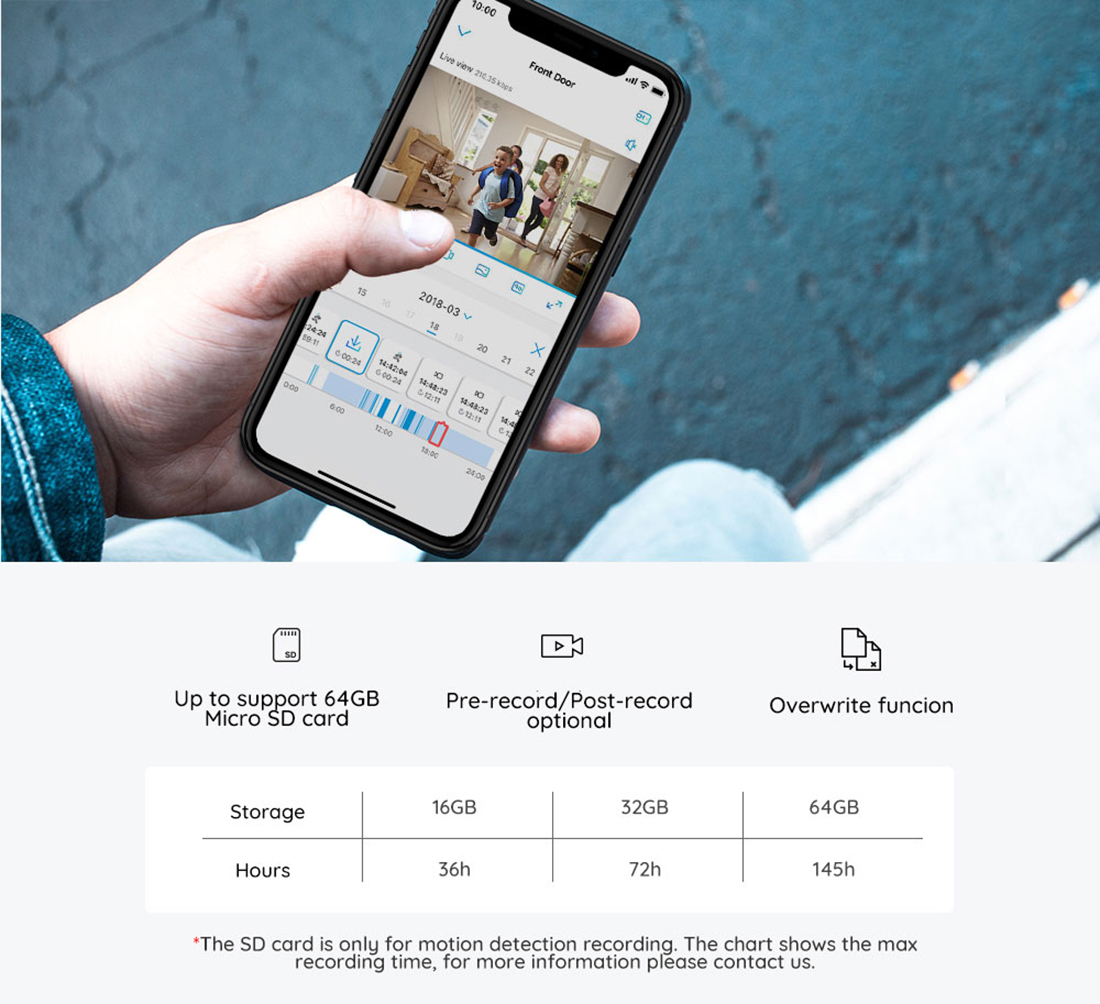 Flexible customizable functions to customize your security camera

• Customize the record schedule to control the time of motion detection. Setup motion detection sensitivity and zones to reduce false alarms.
• Customize alarm settings like push schedule to control the time of motion alter and enjoy your private time.
• Support pre-record for 3-6 secs before the event happens and post-record so that the recording will last for the specific time.

Work with NVR for 24/7 Reliable Recording
If you have multiple IP cameras or if you want 24/7 recording, a Reolink NVR is your best choice. The NVR works perfectly and efficiently with the cameras for round-the-clock monitoring and recording for your home & business security and surveillance.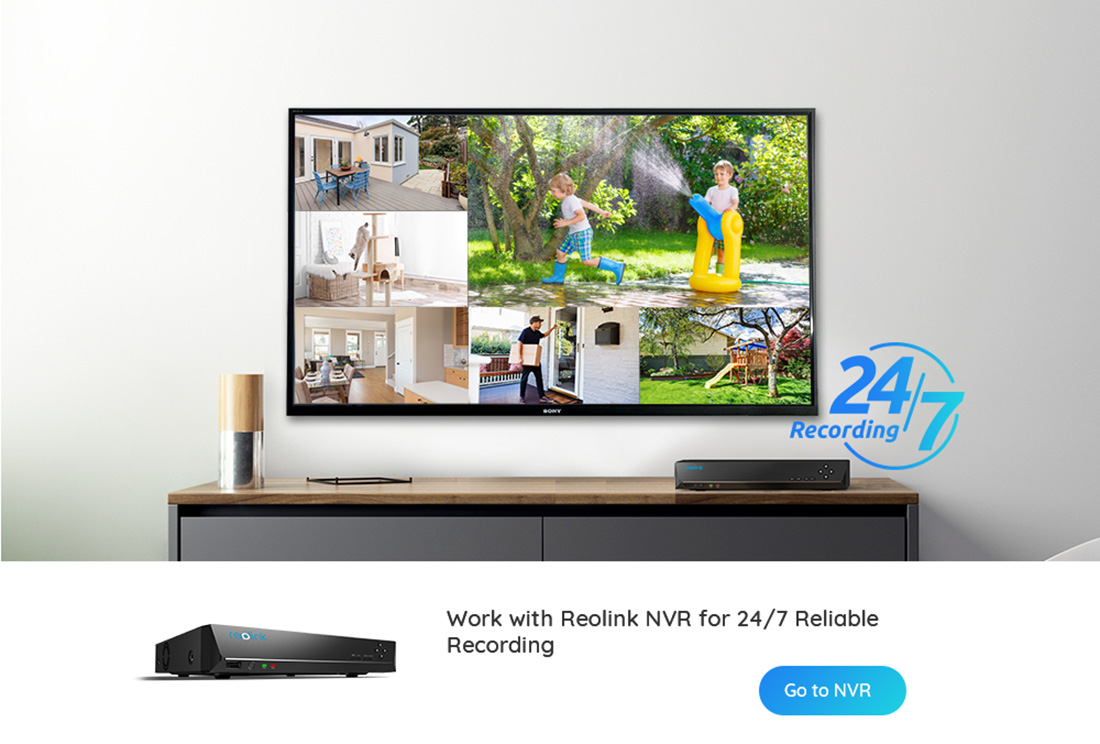 Extend Smartness to Every Home
E1 Pro is compact and blends into your home seamlessly. Loaded with smart features, it can do many things like rotate at your disposal to reach more areas. Or send you customized motion alerts. With unbeatable price, it makes smart and high-quality home protection accessible to everyone.

Free Firmware Update
Free Reolink firmware update helps your camera/NVR keep up with the up-to date features as well as fixing any bugs or glitches.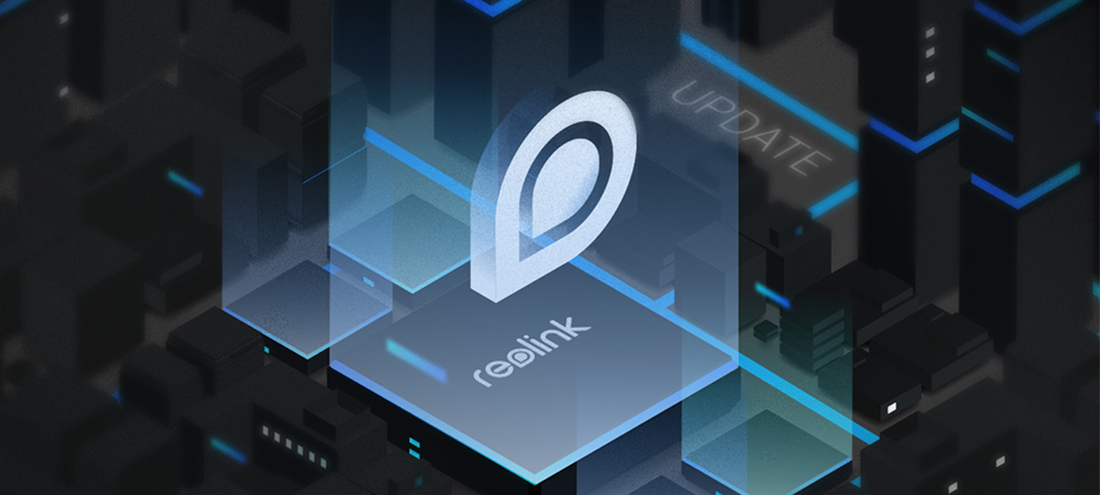 See in details: